THE ALBUM
Drew Moreland has just shown us what country music is supposed to sound like with his upcoming, self-titled, debut album.  You can tell Moreland has taken a few notes from the original outlaws as he sings with grit and conviction in his voice.  He's able to take his daily struggles and turn them into damn fine country songs. 
"Drew's self-titled album was recorded in the single-wide trailer where he lives with his family in Marion, TX.  This project has a darker/grittier tone and covers some more serious subject matter than previously released singles."
Drew told us that the writing process for the upcoming album was mixed, mostly co-written with Garland Lee Wenner and Matthew Parker.  But, also includes material that Drew wrote while spending time on the road alone: "Road Stone", "Prayer of an Outlaw" & "North Wind".
The official release date is August 1st, however if you'd like to pre-order Drew's new album, you will get the digital version on July 28th as well as the CD in the mail around August 1st.
The Final Word
Nine tracks that are reassuring to the sustainment of outlaw, country music during a strange time where new country songs sound more like pop songs.
SNEAK PEEK OF ALBUM
Here's a sneak peak of how kick ass the albums going to be!
Watch/Listen to "Road Stone" below :
Road Stone
Written by Drew Moreland
Recorded and Produced by Drew Moreland and Bill Green
Mastered by Patterson Mastering
TRACK LISTING
Road Stone

God & Cash

I'm in Love

Thumbing My Way Across Texas

Whiskey, Cigarettes, and Guitars

Hayden County

Prayer of an Outlaw

You Call It Texas, I Call It Home

North Wind
Album Release Date
August 1, 2018

Pre-order and receive album 3 days earlier.
ABOUT DREW MORELAND
Despite growing up in San Antonio, now the 7th largest city in the United States, Drew's life was grounded by his parents who both came from a small farming community.  From an early age, he enjoyed listening to music and playing it came naturally.  Drew currently resides in Marion, TX.
Drew Moreland and the Neon Hustle got its start in the spring of 2016 as a songwriting project between Drew and his brother-in-law Garland (Lee) Wenner.  At the time, there were no intentions to actually start a band.  It wasn't until Drew was invited to play country music at a summer event that a band materialized to play some of the songs they had written.
Drew Moreland and The Neon Hustle played over 250 live performances in 2017.
MORE
Drew Moreland and the Neon Hustle played at the Camp House Concert's 2017 Fall Music Concert along side with the Legendary Dallas Wayne as well as Kelly Kenning and James Steinle.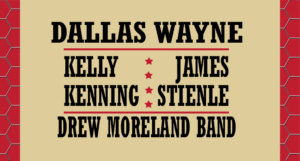 Find Drew and the Neon Hustle on the road as they continue to travel across Texas on their website.