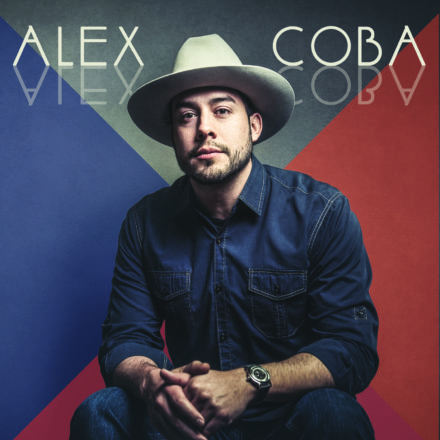 HISTORY AT THE CAMP HOUSE:
  March 27th, 2021 
Alex Coba was the kind of kid that grew up taking naps in his mom's guitar case. Music was all around him in the South Texas heat along the Rio Grande. He is proof that sometimes a meandering path and a penchant for trying things is the exact right recipe for a soulful songwriter to emerge as boundless as the landscape he grew up around. The Harlingen, Texas area native now based in Houston is recording his debut album, a literal lifetime in the making for the songwriter whose life story, while still in the making, is undeniable fodder for interesting, moving songs driven by heart and grounded in strong roots.
2019 Texas Country Music Association "Emerging Artist of The Year" Nominee/Finalist
From the rich traditions of Tejano Music of South Texas to the 70's folk and harmony rich rock and roll in his parent's collection, music was the heartbeat of Coba's family life early on. One of his earliest musical memories is being in the studio while his mom worked on her own recordings and church choir every Sunday morning. She was, as he describes, "the Spanish Carole King," and her example and encouragement coupled with his Dad's, James Taylor, Townes Van Zandt and Santana cassettes he'd borrow left a mark. "It would be weird NOT to be a musician," Coba says.
While his family was steeped in music, they were also steeped in faith and practicality; Alex was urged to pursue a college degree and a steady job. School and sports took him across the country to Indiana but music followed him there; he played coffee houses and parties, solo and in bands as an undergrad. A short diversion from college life involved Alex being selected for an artist development deal with a rising management company based in Nashville. The two year contract coming to an end made Coba realize the Nashville sound and style was not for him at that time in his life.
Back in South Texas, Alex was already used to the hustle of the music business as he completed his degree while touring full time around Texas. He got to experience touring and recording a full-length album for the first time as a member of a regionally successful pop/ska/California reggae band he formed with friends upon returning back to Texas.  "I was writing papers and doing my homework in hotel rooms and playing shows at night."
"His music genuinely comes from his heart with emotionally rich lyrics that defy his years, and a voice that will stir your soul."
"Alex Coba is the real deal." -Wallis House Concerts
The experience was valuable but Coba still felt a facet of what he loved about music was missing in the performing opportunities he had. Alex moved to Houston, and if the cliché "rays from heaven and angel choir singing" moment of divine intervention was a real thing, that would have been what happened to Alex upon rediscovering Texas songwriter Walt Wilkins.  Being a liner note nerd, Coba traced the credits of a Pat Green album, his sister had introduced him to during college, back to Wilkins, which lead him to the likes of Susan Gibson, Drew Kennedy, Josh Grider, Jana Pochop, Kelley Mickwee and the world of songwriting troubadours. After spending a weekend at a songwriting retreat hosted in Red River, New Mexico with all aforementioned writers, Coba met his turning point, and he knew exactly where he needed to be with his craft.  
"I finally found – to me – what feels comfortable, right and honest. What doesn't feel like over-reaching into someone I am not meant to be," he explains. The focus on songwriting, traced from those James Taylor cassettes to modern Texas greats like Wilkins, is the natural landing place after all of Coba's wanderings, both geographic and musical.
"It's like a lightbulb went off. I can write honest, Americana-folk-country songs. I lived that. I'm not making it up, because I saw it. I drove the tractors, played with my cousins in muddy cotton and watermelon fields while my grandpa was working and watched the crop dusters fly over while we played on the levy."
With his budding career, Coba focuses on savoring every milestone & marker of success as they come. Coba's grounded approach to music, life and family reflect his deep appreciation for the art of songwriting. Expectations are high for this Texas Troubadour as he continues to grow as a singer and songwriter.
Coba realized the stories come easily when a writer starts looking inward instead of "out there" for inspiration. "The inspiration is deep in my family and our traditions. I have about 50 cousins, we all talk and are involved in each other's lives. There are so many stories there, so many experiences, heartbreak, loss, joys. I was looking for something that's been here all along." Coba honors the responsibility to tell his story through his family, and he feels the Americana songwriter genre is the perfect home for his style.  The integrity of the song is in the craft and the delivery, and Coba is following in the footsteps of his mentors.
Coba is trying to savor every milestone while he releases his first album. With markers of success that will undoubtedly change in scale as his career grows, Coba's grounded approach to music and life will ensure he savors every single one.
Find more information about Alex, including her performance schedule and new music, at her website alexcoba.com