Help Us Help, Johnny Rodriguez!
One of country music's most successful male artists, Johnny Rodriguez, is eligible to become inducted into the CMA Hall of Fame this year.  Belinda Anderson-Machen and Patrice Ash have teamed up to make sure Johnny Rodriguez gets the honor he deserves!  We need your help to help push his name to the top of the list. 
Click Here to sign the petition!
 About Johnny
Born in Sabinal, Texas, Juan Raul Davis "Johnny" Rodriguez has dedicated 40+ years of his life to his craft and brought pleasure to thousands of fans worldwide.  Johnny has recorded 6 No. 1 Hits such as: "You Always Come Back to Hurting Me," "Desperado," "Down on the Rio Grande" and "Foolin'."  
This favored son of Texas has received standing ovations by audiences ranging from Ryman Auditorium to Carnegie Hall.  He has been honored with the presence of Presidents of the United States including Jimmy Carter and Bill Clinton and playing the Inaugural Ball for George Bush.
Johnny's style brings the Hispanic communities and country music together with his bilingual songs.  Rodriguez has been high-lighted for his contributions and place in music's traditions and history.  
Awards
His debut album, "Introducing Johnny Rodriguez", went to #1 on all three major trade charts and by 1973 he was nominated by the Country Music Association for "Male Vocalist of the Year" and won the Billboard Trend Setter Award for first Mexican-American to capture a national audience.
Johnny was inducted into the Texas Country Music Hall of Fame in Carthage, TX in 2007, an honor well deserved for his contribution to country music.  In 2010, Johnny received the Pioneer Award from the Institute of Hispanic Culture.  
Let's Make it Happen
Nearly 1,000 people have already signed the list!  Be the next one!
Click Here to sign the petition.
Visit the official Facebook Page of Johnny Rodriguez CMA Hall of Fame Campaign
For more information, email [email protected]
Be sure to follow Johnny on his website, www.johnnyrodriguezmusic.com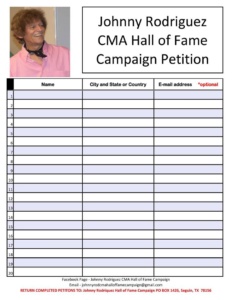 Here are a few of his songs!