ABOUT CAMP HOUSE CONCERTS
Established in 2016, Camp House Concerts is a mid-size, outdoor entertainment venue located back in the brush in Nixon, Texas. Hidden away from those big city blues The Camp House is the perfect environment for family, friends and music lovers to come together, enjoy live music or just kick-back and catch up. The venue is multifunctional but caters towards live music concerts within the genres of Country, Blues, and Singer & Songwriter. Offering a unique and personalized experience to our guests along with quality hospitality for our performers is what sets the venue above others. In between events, Camp House Concerts dedicates their time to serving up news, updates and resources from around the music industry with their Country Music Blog. We invite you and your family to come out and have a one of a kind experience under a south Texas night sky.
OUR MISSION
Family, Friends & Live Music
To bring friends and family together to share a unique and personalized, live music experience by connecting with likeminded individuals and enjoying illustrious lyrics and fine guitar pickin's of singers and songwriters from all over.
MUSIC
Hearing songwriters tell stories, having them feel you with their energy and emotion, creating connections with others all the while escaping to a place where you forget all of the world's problems.
GUESTS
Provide an environment free of rude or inconsiderate people, overwhelming crowd size, outrageous parking and ticket prices, unsanitary facilities and undesirable food lines.
EXPERIENCE
To create a personalized and intimate experience through unique interactions with performers such as, meet and greet, photos and etc., by keeping the crowd size at a minimum.
PERFORMERS
Provide a welcoming environment to artist that serves quality hospitality and a venue made up of people that honestly want to hear their performance.
A Little History
The Camp House was built sometime in the early 1900's.  The Camp House lies about 500 yards from the properties main house.  It sits next to a dry creek bed known as Sandy's Creek and what used to be an old county road.  The Camp House hides about a mile in the south Texas brush, far enough away from the big city lights but still close enough to the small town drama.  The Camp House is roughly 44mi from San Antonio, 68mi from Austin, 148mi from Houston, 248mi from Dallas and about 1,553mi away from New York City, but that's never really been a worry to us; music's better down here in Texas anyhow! 
How it Started
In 2006, the snakes and rats were drug out and a few surprises later, we had us a Camp House. It was a family project mostly throughout the late 2000's until the kids moved out to go off to school. I guess Bud figured he could start sprucing up the place since his son had moved out and wouldn't be around to break windows or throw any wild parties. From around 2010 until today, the Camp House continues to improve one Shiner Bock at a time!
Inside The Camp House
What will you find inside the Camp House? Let me put it this way: many artists have written the words, "if these ole walls could talk", well when you're inside the Camp House, the walls do talk. They talk in the form of pictures, dusty letterman jackets, empty Shiner Bock beer bottles, old yearbooks and concert posters dating back to the 70's. Yearbooks date back to the days of the Smiley Bantams, Nixon Bobcats and the 60's of the San Antonio South Side Cardinals. Everything in the Camp House holds a memory to our family, friends or community!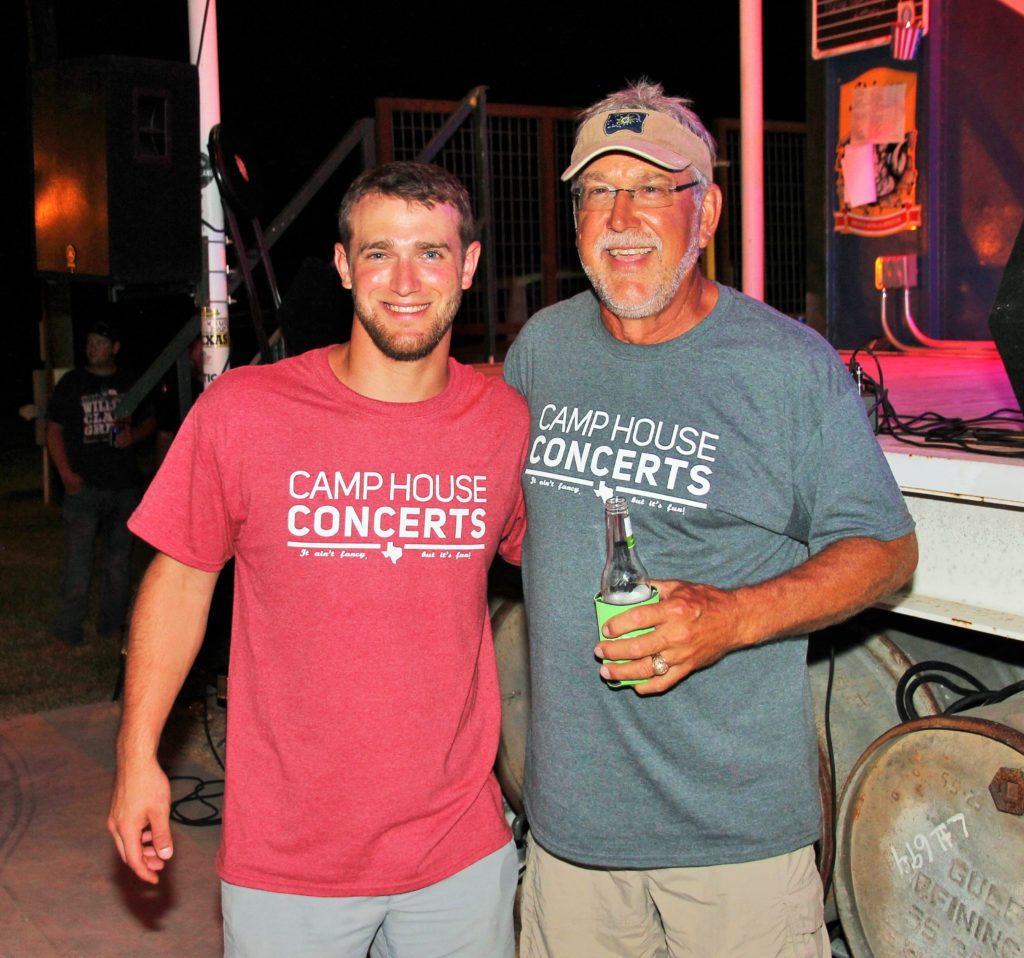 The 65 & Sides Society
The 65 & Sides Society is a unique private club created by Camp House Concerts in order to deliver quality live concerts to a small number of music lovers in a back yard/private concert setting.  Usually 3-4 concerts per year.  Camp House Concerts limits each concert to 65 Pairs of Tickets, 130 total, per concert and every "pair" is expected to bring a side side for that night.  Then, you just sit back and enjoy a live concert and not to mention BBQ & sides galore!
How Do You Join The Club?
There are only 130 Tickets, however, you can sign up to be on the Wait List.  The way the wait list works is; when a club member does not continue his/her pair of tickets, they tickets are then offered to the next member on the wait list.  Your pair of tickets is yours for as long as you want them.  (Much like season tickets)  If you are unable to attend the event, no problem, you can give your tickets out to friends or family members.  You still own your spot for future events!  Join the Wait List
Play The Stage
Find a little more information by viewing our stage photos, or even just our photos in general. Click below to get a better feel of what our stage and venue can handle as far as performers! Looking forward to hearing from you.
Advertise With Us
Teaming up with Camp House Concerts not only brings you high quality visitors to your website but also gets you massive brand awareness!  Find out more by clicking below.
Still Have Questions?
If you still have a question or want to speak with us, simply visit our Contact Page or see if we've already answered it on our FAQ Page.