We have an album review for you this week coming from the young south Texas band, Waitin' on Hayden.
"Doin' What We Do" is the first piece of work released by the up and coming Waitin' on Hayden.  They are a personal favorite of mine and well frankly, they are too damn good to keep a secret!  Track after track, they deliver that pure Texas Country sound. 
Waitin' On Hayden is an Americana/Texas Country band from the sand hills of La Vernia, Texas. The group is made up by, lead singer Darrell Gibbons playing the acoustic guitar, Rusty Shackleford on the pedal steel and electric rhythm guitar, Hayden Krueger on the lead electric guitar, Dalton Dennehy on the bass guitar, Doug Lewis on the drum kit, and Ben Stanush mixing it all together from behind the sound board. They are big Texas A&M Aggies and their lyrics show it with several Aggie landmarks like Aggie football games, tailgating and drinkin' on Northgate.
Lead singer, Darrell Gibbons has a deep voice and delivers powerful vocals. This album does a great job of showcasing their versatility as they capture the upbeat dance songs and all those sad songs about women.  But they can speed it up and do so on several the songs on this album.
You've got to love when those picks get hot and the guitar strings start crying. You can hear the Bass and lead guitars create funky sounds in their song, "I Pick 10" where Lewis sings, "I pick 6 but sometimes I Pick 10."
Here is a YouTube audio clip of "Lonesome Road"
The first track on the album "Lonesome Road" was written by Travis "Rusty" Dupnick and this was the first original song performed by the band. When asked about the song the band said,
"This song is special to us because it serves as the anthem to a long journey that we have embarked on together. So far, this journey has led us to many bars and dance halls, a few fairgrounds, and even the studio to record our debut album, Doin' What We Do."
"Broken Glass and Stolen Signs" is the best description for most college kids and it happens to be the 8th track on this album. This song is slower and is about having long nights with your buddies and the painful re-consciousness that follows the morning after.
Track Listing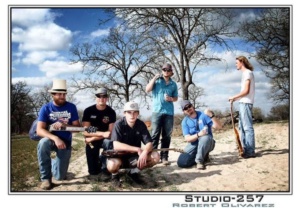 01. Lonesome Road
02. Bar on University
03. Doin' What We Do *
04. That Girl
05. All Night Long
06. You Should Be Mine
07. I Pick 10
08. Broken Glass and Stolen Signs
09. One Way Road
*Our Favorite
Keep on keepin' on boys!  Waitin' On Hayden has a sound that can go the distance and we hope they keep doin' what they do!  If you haven't listened to their record, find out how to purchase and listen to their album below.
---
Watch their videos
on YouTube.
Follow them
on Facebook, Twitter & Instagram.
Purchase their Album
through CD Baby below or by visiting Amazon, iTunes & Spotify.
Visit their website
for more information on tour dates and news, waitinonhayden.com