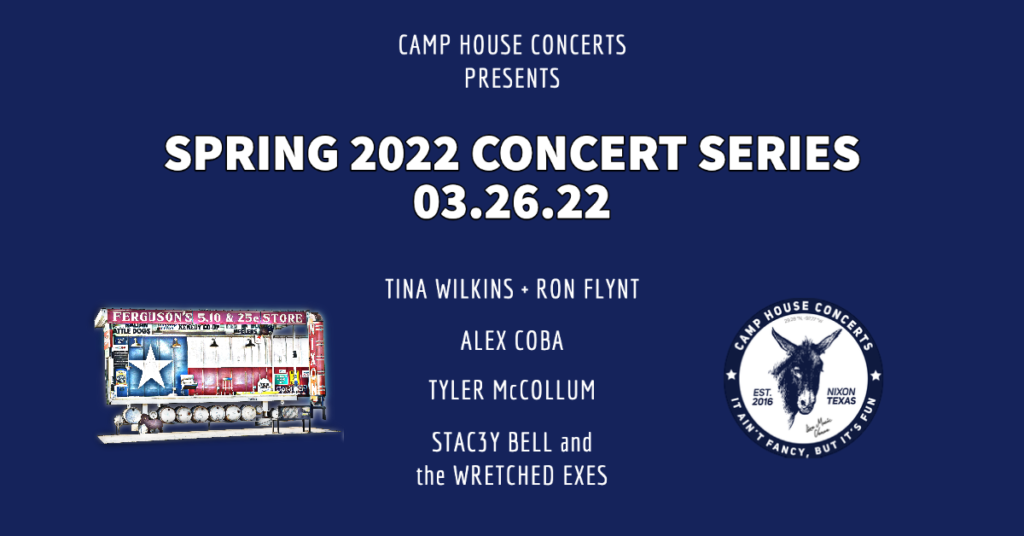 NIXON, TEXAS – Camp House Concerts is proud to announce that March 26th, 2022 is the date of our next concert. A portion of every ticket and all profits, will be donated to a local non-profit organization(s)! Thanks to everyone's participation at our last concert, we were able to give over $1,000 to the local Education Foundation, the Lions Club and the Chamber of Commerce!
The evening will include a very exciting lineup. Headlining the night will be Tina Wilkins and Ron Flynt with their unique awesome set! But this is only after Alex Coba, a Camp House favorite, shows why he is the recent winner of a songwriting event in Waco! We will also be hearing the sounds of Camp House newcomer Tyler McCollum, and an awesome band from Austin, TX, Stac3y Bell and the Wretched Exes. Check back for scheduled times for their shows!
Keep checking back for photos!