Drew Moreland is an original Texas Country Music artist. His style is an amalgamation of Country, Americana, and Southern Rock. True to traditional country roots music, most of his songs tell stories.
ABOUT DREW MORELAND
Despite growing up in San Antonio, now the 7th largest city in the United States, Drew's life was grounded by his parents who both came from a small farming community.  From an early age, he enjoyed listening to music and playing it came naturally.  Drew currently resides in Marion, TX.
Drew Moreland and the Neon Hustle got its start in the spring of 2016 as a songwriting project between Drew and his brother-in-law Garland (Lee) Wenner.  At the time, there were no intentions to actually start a band.  It wasn't until Drew was invited to play country music at a summer event that a band materialized to play some of the songs they had written.
Drew Moreland and The Neon Hustle played over 250 live performances in 2017.
Road Stone
Written by Drew Moreland
Recorded and Produced by Drew Moreland and Bill Green
Mastered by Patterson Mastering
God & Cash
Recorded in Luckenbach, TX
MORE
Drew Moreland and the Neon Hustle played at the Camp House Concert's 2017 Fall Music Concert along side with the Legendary Dallas Wayne as well as Kelly Kenning and James Steinle.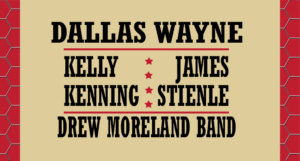 Find Drew and the Neon Hustle on the road as they continue to travel across Texas on their website.