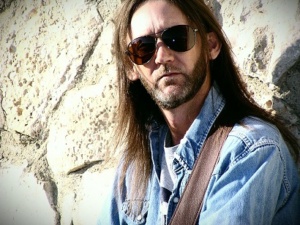 Richie Allbright is a Country singer/songwriter who grew up in the small south Texas town of Mathis.  His influences are some of the greatest in Country Music.  Including Merle Haggard, Willie Nelson, Johnny Paycheck, Waylon Jennings, Gene Watson and Johnny Rodriguez, just to name a few.  With every note in his music you will find remnants of the history of country music and his life.  His passion for country music started at a very young age.  The stories in the songs, although some he wasn't old enough to really understand at the time, he still took to heart.  In 1994 at 22 years old, he made his move to Nashville where he landed a gig the second day he was in town at Gilley's on 16th Ave.
The daily grind of an artist in Nashville isn't an easy life, but it can be a ton of so called "Fun".  The after parties, seeing and meeting his heroes, and even joining a few of them on stage.  He was viewed by many of his peers as one of the best traditional country singers in town.  The celebrations became daily, and along with that were the underlying demons passed down through generations.  The distance between him and his dream seemed almost unreachable.  So in 2002, he decided to try and get his life back on track.  He moved to Dallas, TX with his brother and faced his demons.  After a year of soul searching and eventually finding sobriety, he headed back to Nashville.  This time with an arsenal of lyrics reflecting the pain, misfortune, addiction and loves that he'd lived through in an effort to free himself of his past.  Back on track and chasing his dream, his friend George Clinton introduced Richie to legendary music producer Fred Foster who loved Richie's voice and style.  They recorded a demo.  Fred tried to get the labels in town to listen, but to quote Fred, "Richie, they just don't get it."
By now, country music had taken on a less than traditional sound.  But that didn't stop him.  The demo made it's way to Texas and into the Texas Music community where he was welcomed home to make his first Texas album, "If I'd Known Then" in 2008, produced by Bill Green at BGM Studios in San Antonio, TX.  "You Ain't No Hank", would be the first radio single, as well as his first Top 50 on the Texas Music Chart.  Three more singles would follow over the next year, including "Tag, You're Hurt".  But in 2010, things went south again.  Starting with a divorce and ending with a relapse.
Skip forward about 7 months.  May 25th, 2011 at a little bar in Beeville, TX enters Kim, a North Carolina native who had moved to Texas only 3 weeks before.  She'd seen the likes of a man like Richie early on with her father, even living some of it herself.  She walked over to his table, introduced herself and asked "So, what's your story?"  She got it.  Every guilt soaked, pain stricken detail she related to.  They spent hours every night for weeks on end talking and sharing, "the good, the bad and the ugly" of their lives.  It was, for both of them, a take it or leave it kind of thing.  Neither realizing that they had found their soul mate and best friend for life.  The next year was much about making plans for the future.  It had been nearly 4 years since his last album.  And he was ready.  Still battling his demons, but this time with an urgency and passion to prove to himself that it would not break him.  So in 2012, he teamed up with his friends Billy Jo High and Jarrod Birmingham, who would produce the new album, "Kickin' Down The Doors" at Yellow Dog Studio in Austin, TX.  The album received great reviews.  Outlaw Magazine's Dave Pilot wrote, "Richie Allbright's vocal is enough to make one think that somewhere way back in the day Merle Haggard and David Allan Coe had a bastard love child.  Forget the ways the biology doesn't work.  Just stop and listen to that weathered, wizened, wise and wistful sound."  Even with all the stir caused by the album and being well received by his fans, he still wasn't ready to let go of the monkey he carried on his back.
Another quote from Outlaw Magazine's Dave Pilot – "When he's not wringing your heart dry with timeless interpretations of other writers' songs, Allbright's got a way of unleashing his own observations in a manner you're not going to expect.  Perhaps in some ways the most striking cut here is an original titled "Gravedigger."   Borne on an appropriately haunted carriage drawn by ghostly pedal steel and fiddle, it's a song that will not let go.  No one thinks of the ones behind the scenes, the thankless souls whose unseen work greases the skids of our lives.  No one but Allbright, apparently."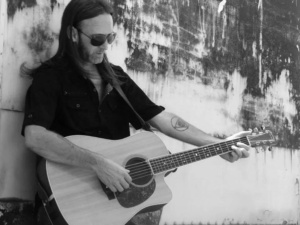 On the night of April 2nd, 2014, much like any other night, he drank with friends till 5:00am.  But this night he'd finally hit the bottom.  It was quit or die.  Filled with guilt and remorse he and Kim had a long heartfelt and serious conversation about their future, which didn't include alcohol.  He knew what he had to do and he knew it wasn't going to be easy.  But with Kim's love and support, he was finally able to get sober again.  With a new found clarity and sobriety well underway he and Kim were married on August 29th, 2014.
His next project would be a tribute to his heroes.  The ones who inspired and influenced him his entire life.  IN 2015 he was introduced by a mutual friend to producer Ted Russell Kamp from Los Angeles, CA, who he was certain would be the guy to help him turn his vision into reality.  After much debate over an album of all cover songs, Ted convinced Richie that he needed to add a few of his own songs to the mix.  Knowing the company of songwriters he was about to join, this was not an easy task.  He pulled from ideas he'd been carrying around, some for years, to write songs as honest and real as the ones he'd already chosen for the record.  He and Kim boarded a plane in San Antonio, TX on August 9th, 2015 to go record "Poets, Prophets, Heroes & Friends" (The L.A. Sessions) at Station House Studio in Los Angeles, CA.  He was honored to have his friend Johnny Rodriguez join him on the old Gene Watson song, "Carmen".  The first single "Old Country Song", was written by his old friend Billy Don Burns and released in September 2016.  The follow up single, "I Lived To Tell It All", is a song that Richie wrote about his experiences throughout his career.  And every word of it is true and straight out of his crazy and very interesting journey.  "I drank too hard and talked too much, just didn't care at all.  I blew my chanced and missed the dance, but man I had a ball.  And lookin' back at it now, at least what I recall.  I wouldn't change a single thing, cuz "I Lived To Tell It All".
Originally posted at: richieallbright.com/info/
His music is available wherever music is sold and streamed!
Visit his website here OR follow Richie on Facebook below: