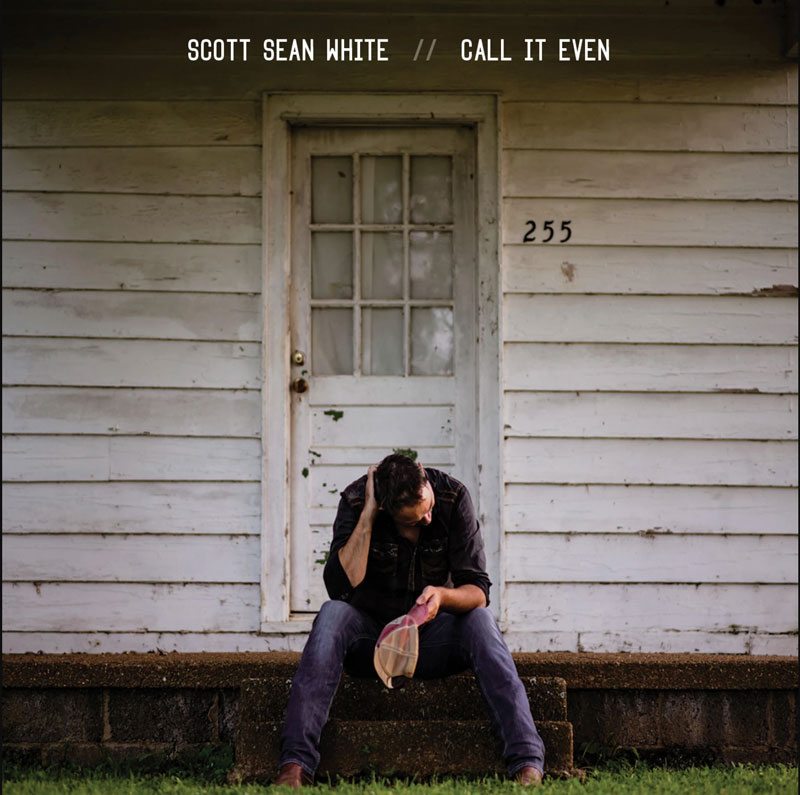 "Call It Even" - Scott Sean White Debut Album
The Journey Towards Scott's Debut Album...
Few artists possess the ability to pull us into their stories immediately with such emotional vulnerability in their voice and candor in their lyrics as Scott Sean White. Like John Berry, White touches our hearts with stories of loss and love, regret and reconciliation, despair and hope, and like Lori McKenna, White pulls gem-like reflections out of an ordinary life filled with the many little disruptions and diversions of daily life. On his first album, Call It Even, White lays bare his soul with raw honesty, fiercely trading in the ragged vagaries of life and love in emotionally soaring vocals that echo in our souls long after the music has stopped.
​
Like Guy Clark and McKenna, White is a writer's writer. He soulfully invests himself in each song, delivering the songs in his life-worn, warm, and vibrant vocals that get us to feel what he's feeling and to find ourselves in those feelings.
​
For a songwriter who can produce such magical, such poignant, and such moving songs, it's probably no coincidence that White now makes his home in Poetry, Texas. Since March 2020, he's been pretty much locked down in the small Texas town with little more to do than produce this album, which, for him, was a real blessing. "I'm really thankful I had the time," he says. After all, up until a couple years ago, he'd spent most of the last three decades playing gigs every week with his corporate band. "It was a 10-piece funk, disco, cover band, plus I booked and managed it all, and early on I was also a studio engineer." For the last 16 years, White was also shuffling between Texas and Nashville, where he sat with others in writing rooms churning out songs they hoped would be picked up by folks like Tim McGraw. At the same time, White was writing songs that grew out of his own life; "This album has just been about songs that I love as a writer, songs that mean something to me," he says. During the last several years, he was selling CD's of his songs at his songwriter gigs, but they didn't all feature him singing. White knew that if he was really going make a run at this singer-songwriter thing full-time, he needed his own album. When Covid-19 shut the world down, "All of a sudden I had time to work on this record," he says.
White's had this album in him ever since he was in his twenties, though. The stories of his early family life were bubbling up inside him constantly—"all the major adult figures in my childhood were either alcoholics or addicts… or both," he says—but the stories he had to tell didn't fit the hip hop or R&B or funk styles that he was playing or that he was producing for other artists. In his mid-thirties he traveled to Nashville with a few country-leaning songs in his pocket. "It felt like I'd found my musical home," White recalls. He had his first publishing deal in 2007, and when that deal ended, he just kept making the trips and writing, telling the raw and emotional stories he had inside him. He started playing in writers' rounds at the Bluebird Café in Nashville, and became part of a close-knit writers' night called the Music Row Freakshow. That group of writers and friends, he says, "reminds you every night how good your songs have to be."
​
Some songwriters spend precious time struggling to find their truth and make it rhyme. Others just pick up their guitar and tell it. Scott Sean White is one of the others. -Jack Ingram
White counts as his influences several songwriters, including Guy Clark. "I'm embarrassed to say that I didn't dig deep into his stuff until 4 or 5 years ago, but he definitely affected my record," he says. Tony Lane also had a huge influence on his writing. White points out; "Tony literally changed the way I write, and I started the song 'Call It Even' right after I listened to Tony's album the whole 10 hour drive from Nashville to Texas one night." After White was floored by Travis Meadows' Killin' Uncle Buzzy, he felt like it also gave him permission to put out an album that didn't have too many uptempo songs on it since Meadows' album has only two such songs. "Lori McKenna's records," White says, "told me that I could be quirky and different; I could just be myself; commerciality be damned." Bobby Pinson's album Man Like Me encouraged White because "every song has meat on the bones. Every line is so good, it sounds like it could be the title of another song."
​
White has spent this last year making a songwriter's album, and during the making of the album, he says, he couldn't escape "one constant reminder: Be Me. From choosing the songs to producing them to figuring out the order, picking the picture for the album cover, EVERYTHING… the one theme, the one constant ringing in my head and my heart when I was at any little crossroads about a choice… was BE ME."
​
Producing the new album, White tries to "be as true to each song, each lyric as I possibly could." The opening, and title, track of Call It Even rolls in on sparse piano chords that create the emotional space into which White delivers wrenching lyrics of a young man trying to come to terms with the division tearing his family and his own soul apart and the forgiveness that might heal it. Piano and pedal steel create an ethereal sonic atmosphere that induce a poignant struggle of dealing with the ambiguities of life. As White says, the song reveals his own struggles to recognize the ways that we all battle with good and evil in our lives, internally and externally: "It's me learning that people are… hmmm… shall we say… complicated. It's me growing to understand that there's very little black and white in life. It's me looking in the mirror as I got a little older and feeling the weight of my own sins and mistakes, and figuring out that we are ALL broken - we're just broken in a different way than the person or persons we made out to be the villains in our story."
​
"Crazy But True" flows along shimmering waves of sparkling guitar and pedal steel chords, washing over us in undulating streams of cleansing and purifying vocals. Following the intensity of the title track, this song clarifies our senses and allows us to feel the light of a loving relationship. White recalls that the "idea for the song sat on his phone for two or three years before it got written. It sat there for a while because I knew it was a big idea and I couldn't force it. It would happen when it happened. And because it was a big idea… I didn't wanna screw it up. So - I waited. One day I got in a writing room with my one of my best friends and best co-writers, Terri Jo Box - and a talented young man named Daniel Epperson. Something in me said, 'This is the day.' So I threw it out there and they loved it, and we got to work."
An incredibly good man with a great gift! Heart, soul, humor and faith is where real songs come from. Do yourself a favor and check this record and these songs out.​ -Doug Johnson
The jaunty "Crazy 'Til It Works" illustrates White's canny ability to tell a tale filled with serendipitous twists and turns and to find the just-right word or phrase to describe the unexpected character of life. One day, banging around on his guitar, "not even trying to write a song," White came up with this line about a couple who gets "married by Elvis in a drive thru chapel in Vegas." As he recalls, "It was interesting. I thought to myself, "Hmmmm I wonder what THAT'S about??" Sounded like a cool, crazy couple who probably didn't have a chance in hell of making it. So I started running down that road, telling this couple's story as it unfolded in my head." White and Jared Hard ended up finishing this bluegrass rambler about just that and the ways that some of the stuff we do in life seems crazy at the time but ends up working.
The lush spaciousness of "Humankind," with its gospel-inflected piano movingly tells the stories of two people for whom human kindness provided a balm for their pain. The idea for the song came from White's co-writer Helene Cronin who saw a hashtag—#Humankind—on the internet. On the day they wrote the song, he says, "she had an idea about how to set it up with something like 'nothing helps human pain, like human... kind.' We ended up adjusting that wording by the time we got done but that was the thought that sparked it all. It is one of my most favorite songs my name has ever been on. And possibly… the most impactful."
If you don't mind your heartstrings being tugged at and maybe a few tears rolling down your cheeks, you'll surely appreciate the sentimental and strong new song and video from Scott Sean White, "Dad's Garage & Mama's Kitchen." Even if — or especially if — you're hurting from the loss of a parent, White's deft delivery of good old-fashioned feelings and loving nostalgia for everything about parents will get you where you live.
The tender ballad "Dad's Garage and Mama's Kitchen" flows along crystalline and pure guitar chords as it artfully portrays the ways that each parent provides love to their children with lines such as "between carburetors and casseroles, broken hearts and fishin' poles/ there was always something needed fixin'/in dad's garage and mama's kitchen." "This song always reminds me," White says, "that there is something supernatural about the blessing of having two parents - a perfect example of the old saying ,'The whole is greater than the sum of its parts.' Mom does stuff a dad simply cannot do… and vice versa."
​
White sings about the holes in our lives that death and separation create in the touching, sonically spiraling, Dan Fogelberg-esque "The Broken Part." In the midst of brokenness comes healing, as White sings in the song. "Although we wrote the lyric to make it sound like a boy-girl relationship lost… this song was born out of grieving for my brother Joey," White recalls. "I had never experienced anything like it. Even though we took the song's story a little different direction - it was a healing thing. That's one of the wonderful things about this gift… so many times, it helps heal us."
Spare, finger-picked guitar lays down a spacious musical foundation on "God's Not Me," a song that ponders our struggles to try to control our lives and the relief that comes when we are willing to relinquish that control and to acknowledge God's grace in never giving up on us no matter the mistakes we continue to make in our lives. The album closes with the upbeat "When I Go," a reflection not only on the impermanence of material things but on the enduring spirit of hope and love.
Even though Scott Sean White tells his own stories of heartbreak and hope in his emotionally riveting songs, he's telling our stories, too, and in every one of his songs we glimpse the ways that our own lives have sometimes fallen apart and been stitched together again by the silver threads of love.
Listen to the First Single
Watch "Dad's Garage, Mama's Kitchen", The Official Video