A quick look at the children of Willie Nelson that have gone on to pursue musical careers. We look at the music of Lukas Nelson, Paula Nelson, Amy Nelson and Micah Nelson.
Willie Nelson is the country music legend we've all known to love, but we are going to take a look at his children and their musical talent as well as their associated bands. Promise Of The Real, Insects vs. Robots, Folk Uke and The Paula Nelson Band.
Lukas Nelson

Lukas Nelson & The Promise of The Real
If you close your eyes while listening to Lukas Nelson, you might think for a second that you are hearing a young Willie Nelson. His voice and guitar licks sound just like his father.
Formed nearly 11 years ago, POTR have had a heavy underground following but have started to slowly inch into the eyes of the mainstream. With appearances on Willie Nelson's 2012 album, Heroes, to stage time at Willie's 4th of July Picnic and being Neil Young's official studio and touring band, POTR will soon be a household name!
Rock 'n Roll to Country – these guys can do both well as Lukas can carry a beautiful vocal note while the entire band can turn it up a volume and deliver outstanding guitar licks.
The song that caught our attention is, "Forget About Georgia".
Discography
Lukas Nelson & POTR has released 6 albums:
Self Titled Album (2017)
Something Real (2016)
Realer Bootlegs Vol. 1
Wasted (2012)
Live Endings (2012)
POTR (2010)
Official Website of Lukas Nelson & Promise Of The Real
Paula Nelson

Paula Nelson Band
Paula has a beautiful voice and she shows it on her songs. Paula hasn't released an album in a while but her albums that are out are worth a listen!
Paula is best known for her skills behind the microphone as she was a DJ for KDRP-LP (Texas), and currently hosts "The Paula Nelson Show" on weekdays for SiriusXM's Outlaw Country. She also hosts a weekday show for Willie's Roadhouse, another SiriusXM channel. Check out our post of Best SiriusXM Channels.
In 2016, Paula was named "Female Artist of the Year" by the Texas Country Music Association.
Discography
The Paula Nelson Band has released 4 albums:
Coming Home ('98)
Fireflies ('00)
Lucky 13 ('08)
Little City ('10)
Under the Influence – Covers Album ('14)
Official Website of The Paula Nelson Band
Amy Nelson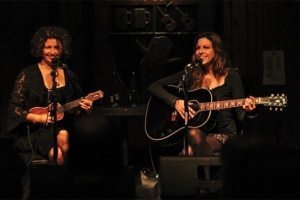 Folk Uke
The story begins in a bar in San Diego in the year of 1998 where Amy Nelson and Cathy Guthrie met and this brilliant duo began working on a 2-person folk band. They describe in their bio on FolkUke.com that "one of them was a tramp and the other was a devastatingly pure."
Their music is very unique, hilarious and according to them, just kind of amazing. "Don't believe the rumors. Folk Uke is not totally amazing. They're just kind of amazing. If you find yourself at a Folk Uke show, you are in for a treat— but maybe not the kind of treat that you like the taste of."
When it comes to song titles, people often wonder, what's that song about? Not the case when it comes to Folk Uke. Often times, their song titles are a pretty straight-forward description of the song that follows. Here are some of our favorite songs/song titles : "Starfucker", "BJ to a DJ", "Sweet Talker" and "Mother Fucker Got Fucked Up".
*Side note: As Amy Nelson is the daughter of Willie Nelson, Cathy Guthrie's father is Arlo Guthrie – famed singer-songwriter.
Discography
StarFucker (2016)
Reincarnation (2011)
Folk Uke (2005)
Official Website of Folk Uke
Micah Nelson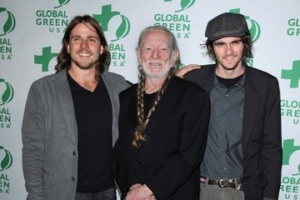 Insects vs. Robots
When Micah and his band get playing, it sounds like there are 50 different instruments on stage. And the reason for that is that they employ some quite unusual instruments in their music: Violin, charango, harp, banjo, kazoo, harmonium and sitar.
They describe their music as "experimental and boundary-less" music.
This is what makes them so much fun to listen to. You never know what you will get! This is true also for their live performances as they electrify both the stage and the crowd.
Discography
Theyllkillyaa (2016)
Insects vs. Robots (2013)
Geryl & The Great Homunculus (2010)
Official Website of Insects vs. Robots