Jeannie Seely Joins "Willies Roadhouse" on SiriusXM
Debut On Willie Nelson's Exclusive SiriusXM Channel To Air Memorial Day Weekend  
 
NASHVILLE, Tenn. (May 23, 2018) – SiriusXM has announced that 50 year Grand Ole Opry veteran, Jeannie Seely, will be joining the Willie's Roadhouse family as an on air personality on Willie Nelson's exclusive classic country channel.  
Seely will make her Willie's Roadhouse debut over Memorial Day weekend.  The show will air weekly beginning on Sunday May, 27 from noon to 4 pm ET.  The Grammy winner,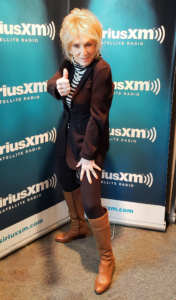 country hitmaker and award-winning songwriter adds her charm and her quick wit; along with her memories and personal stories about the music to the airwaves, and will join the channel's on-air family that includes "The Mayor of Music Row" Charlie Monk, Paula Nelson, Dallas Wayne, Ranger Doug Green and Ray Benson of Asleep at the Wheel.
"The only thing better than being able to play classic country music is to be able to do it at Willie's Roadhouse," said Jeannie Seely. "I'm so excited to be a part of the SiriusXM family and play the music of my peers!"

"I'm so glad Jeannie Seely is on the Roadhouse," said Willie Nelson. "She is a good friend and will do a great job."
Click HERE for Jeannie Seely tour dates.
About Willies Roadhouse
SiriusXM's Willie's Roadhouse, Channel 59 is home for traditional country music and the Grand Ole Opry. Listeners can hear country classics from the '50s, '60s, '70s and '80s by artists such as Willie Nelson, Merle Haggard, Johnny Cash, Dolly Parton, Kenny Rogers, George Jones, Dolly Parton, Conway Twitty, Patsy Cline and more. 
Check Out The Top 21
We made a list of the Top 21 SiriusXM channels.
About Jeannie Seely
Among many accolades including honors from Billboard, Cashbox and Record World, Grammy award winning entertainer Jeannie Seely has achieved chart-topping songs as a solo artist, as a duet partner and as a songwriter. Early in her career, Jeannie's deeply moving vocals earned her the nickname "Miss Country Soul" – a title that's still used today. Jeannie's biggest dream came true when she was inducted as a member of the world-famous Grand Ole Opry, becoming the first Pennsylvania native to do so. Jeannie is celebrating her 50th anniversary as a member of the Grand Ole Opry where she paved the way for females in the music business by becoming the first female to regularly host segments of the weekly Opry shows as well as being the first to wear a mini-skirt onstage. Jeannie takes much pride in her involvement and support of musicians' rights. From her 1966 Top 10 Billboard album The Seely Style to her recent self-produced Written In Song, consisting entirely of songs she's written, Jeannie's recordings have spanned six decades and provided enjoyment to country music fans all around the world. In his 2003 book Finding Her Voice: Women In Country Music, music critic Robert K. Oermann wrote, "With her chin-out, tough/tender, heart-of-gold manner, Jeannie Seely remains one of country's most completely modern female personalities." And that still holds true today. Keep up with all things Jeannie Seely at www.jeannieseely.com.