Country Backroads Podcast & Review has a brand new episode for you to hear!
Wednesday, October 4th with Jerrod Niemann. You can find previous episodes with the Eli Young Band, Craig Campbell and Lee Greenwood at the website backroadspodcast.com  The show is also available on iTunes, and most apps where podcasts can be downloaded.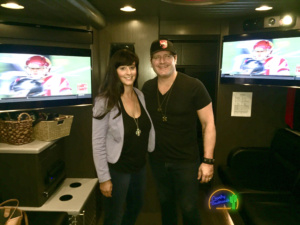 Country Backroads Podcast & Reviews is a podcast by Television & Podcast Producer, Jana Martin!  Jana puts together a great interview with country music artists on everyone of her podcast sessions!  She keeps it short & sweet, as most of her shows are under 30 minutes.  This is one podcast that you should follow!
Jerrod Niemann talks to Jana about camping stories, mimosas and his process of choosing which songs make the album.  She also touches on the horrific tragedy that occurred in Las Vegas.  Go find Jerrod Niemann's new 13-track album, "This Ride", which released October 6th.
Go to your podcast app and search for "Country Backroads Podcast & Review", and follow!  You can also listen online at backroadspodcast.com