Learning About House Concerts
You've heard or keep hearing about House Concerts and you want to know what the heck it is.  Well, you came to the right place!  Below we discuss what a house concert is and why people host these events.  Find out why some musicians actually prefer these concert settings.  Much more below!
What is a House Concert? 
Let's start with the reason to host or attend a house concert.  People attend a house concert to experience a live musician or talent with a small number of other guests making it an exclusive event.  Most people host these types of live music events in order to bring family and friends together or to honor a celebration of some sort. (ie. graduation party)  
Don't let the name constrain you to believing small, private concerts can only be held in a house.  This is where the Camp House and Camp House Concerts comes in as a great example!  Our group of friends and family, the 65 & Sides Society, is simply a diverse group of friends who come together around 4 times a year to eat mouth-watering food, visit with friends and hear different music!
Why Host a House Concert?
We have already told you that ordinary people just like you and me like to host House Concerts because it is a very unique way to bring friends and family together over a very common topic - live music!
There are plenty of artists out there that perform house concerts of all shapes and sizes.  From what a few musicians have told me, each venue has a unique if not strange story of their own.  Performers do these events for an array of reasons.  If you are one of 20 people at this concerts, odds are that you either really like the musician that is performing or you are a person who appreciates music and songwriting.  Artists get the opportunity to play acoustically, usually, in front of a small number of people, creating an intimate vibe where members of the audience can ask questions and listen freely without 10,000 screaming fans.  
Odds are good that if you attend a private house concert, you will have a special connection to that artist or band and are more likely to listen and purchase their music.  It's a win-win!
What Do You Need?
You need a group of friends or family that would attend your event.  Next, figure out what artist you would like to have and reach out to them for available dates.  If you need help with the booking process or have questions, we're pros, so let us help.  Shoot us a message!
This next necessity is an obvious one.  Food is usually an appreciated accessory to your concert because people like to eat!
As far as venues are concerned, you can set up the appropriate space anywhere if you get creative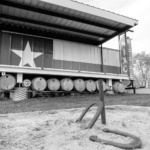 enough.  If you are inviting 20 or less people, you might be able to host this event in your living room.  Remember to do a test run to figure out how the music will sound in that room.  If you are planning on having a larger group, look at a nice outdoor spot that you can rent or use.  Just check out our pictures and you can see what an old rotting house, out of service 18-wheeler trailer and some elbow grease can create.  Stage Pictures
Resources
Visit our Songwriters & Artists page - if they are listed, we can help you get in contact!
We will have a future post on unique stages that we will post here.  
If you just want to host the event and have a venue do all the leg work for you, that is not a problem as we can help with that too!  Just contact us!