Why the name R.L. Hayden?
This blog post explains it all...
BY RLHAYDEN ON OCTOBER 11, 2016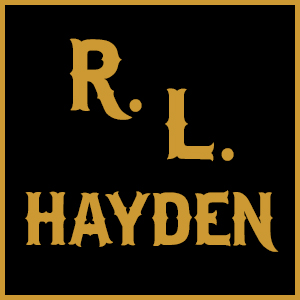 When I was thirteen years old my life changed forever.  All I had ever known about music was what I heard on the radio or my parent's record collection.  I grew up in the early 80's and although cassette tapes were popular (and we had quite a few) my family mainly listened to vinyl records.  My parents had an amazing collection – Hank Williams, Don Williams, John Denver and Merle Haggard were the first voices that really caught my ear.  They laid the foundation and then when I was twelve or thirteen years old my parents took me and my sister to a "campfire concert" on a ranch outside of Ft. Worth and everything changed.
There was dinner from a chuck wagon and someone performing songs around a campfire…..which I had never experienced before.  To my great fortune it was Don Edwards singing, who is arguably the greatest cowboy singer of our time.  That night literally changed my life.  He sang songs that made the tunes on the radio seem ridiculous and corny.  He was singing about real life and subjects that even at such a young age made me feel a connection to something much deeper than anything I had experienced before.  That night has stayed with me until this day.  It is the reason I am a musician.  The very next week I borrowed a guitar from my uncle and began teaching myself to play.  The first song that I learned was Red River Valley, which is one of the oldest songs in American history.  It was also the first song that I performed in public a few years later at the Yesteryear Festival in Pleasanton, TX at the Longhorn Museum.
Pleasanton is known in Texas as The Birthplace Of The Cowboy and I take great pride in being from there.  My family settled there in the 1860's while their oldest son was fighting in the civil war.  From there my great grandfather left Atascosa County and went up the trail working cattle during a time that Larry McMurtry and Louis Lamour only envisioned.  My grandfather was a cook on one of the last big trail drives and also played the fiddle and sang songs around the campfire.  My
 family had a small cow-calf ranch operation and I grew up on a few hundred acres with a very real connection to those who came before.  It was a simple time filled with music, family and God.  I would never have imagined how far the world would have changed to where we are now.
By the age of 18 I was making a living playing music and had the great fortune of meeting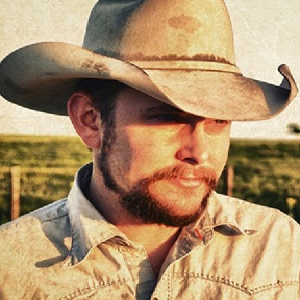 Robert Earl Keen, a legend among Texas songwriters.  By the time I graduated from high school I had a publishing deal and was touring around Texas as one of Robert Earl Keen's main opening acts.  At 21 years old I had played Willie Nelson's 4th of July Picnic and released my first album titled The Real Thing.  The album was produced by Tony Brown (MCA Records) and received critical praise from USA Today, People Magazine and Entertainment Weekly among other publications.  It was an amazing time.  Soon thereafter I signed a record deal with Audium Records in Nashville and was label mates with Dwight Yoakam, Willie Nelson, Ray Price and Robert Earl Keen.  I had an amazing band, we toured across the country and I was introduced to the mainstream country music scene – radio tours and all.
It would seem as if my dreams had come true, and on one hand they had.  I had made it to some extent…..but I soon learned the darker side of the music business and my record label went out of business.  My radio airplay went away, the publicity dried up and I was on the road touring just to make a living.  From there I signed a publishing deal and moved to Nashville with the hope that I might get a song cut or find another record deal…….but it never happend.  At the age of 27 I lost my publishing deal and moved back to Texas where I recorded my third album which did well in Texas.  I was selling more albums than I ever had before, playing big festivals and venues and receiving quite a bit of regional radio airplay.  Then my mother died.  It wasn't just that she died but that she was found on a dirt road in the middle of nowhere with a lot of questions surrounding the murder.  It not only derailed me in my personal life, but also my music.  I found myself at shows drunk and angry and had to eventually take time off so that I wouldn't ruin my career.
Fortunately my wife was my rock and pulled me through and a year later I put the band back together, recorded another album and hit the road again.  This time though we were playing honky tonks and dancehalls mainly and while we were making a living and doing pretty well the lifestyle began to take its toll.  I became the character that I had been singing about……until one night at The Hangin' Tree Saloon in Selma, TX.  At the end of a show I met a guy named Rusty Baker who told me that he was a fan of my music and invited me to a ranch that he was heading to the next weekend called The Herradura to play some music.  I had no way of knowing what a blessing meeting Rusty would turn out to be, not only for his friendship but also for the musical impact this chance meeting would have.  I went with him and played songs around a campfire, which I had not done in many years.  It was a healing process…..which continued for a number of years.  I met friends on this ranch that would again change my life and bring me back to something I desperately needed…..returning to my roots and singing cowboy songs around a campfire.  It seems simple enough, but it had a huge impact on me.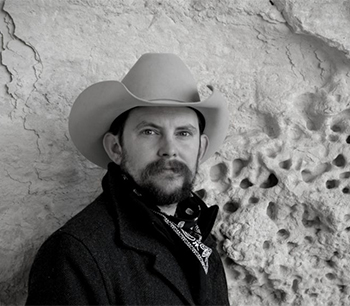 Over the next few years I continued to play in honky tonks and barrooms but on my days off I would find myself playing around a campfire at The Herradura or other south Texas ranches and connecting to something that I had lost along the way.  There was a something that took over and consumed me….and healed me.  Within a few years I found myself leaving the bars and honky tonks and making my living playing campfire concerts and cowboy gatherings.  I had come full circle and now after having a son of my own and realizing that this particular way of life…….whether it be the songs, spiritual connections, personal relationships or just living off the land…..it was something that I want to pass down to him.  It's important.  It's more than music.  This is a way of life and I am proud to say that I am a Cowboy Singer.  Rodney Hayden is who I was for a long while, a half drunk honky tonk singer…..but R. L. Hayden is who I have become.  I don't want anyone to be confused when they
come to a show or pick up an album because the previous work that I have done has included a full band (and great musicians I might add) playing country music but what I am doing now and what I will be doing in the future is just me and a guitar singing cowboy songs.
I still hold great respect for Nashville and the music industry but I have been able to walk away from it with my head held high and be proud of the fact that I made the circle back around to my roots and that I will be be able to pass our history on to my son.  It's important, especially in the times that we find ourselves in at the moment.  We must understand who we are and where we came from and take up the fight to keep it alive.  I'm just a singer, but I hope that through my words and songs that I can inspire you to get in touch with your heritage or encourage you to continue to do so if you already are.  It is a special breed that we come from and I hope that we can keep the Cowboy legacy alive for future generations.  May God bless you & I thank you for reading this post……I hope to see you out on the trail!