San Antonio's premier craft "brewstillery", Ranger Creek Brewing & Distilling is proud to announce that they are teaming up with Drew Moreland, one of Texas Country's hottest new artists, to create the perfect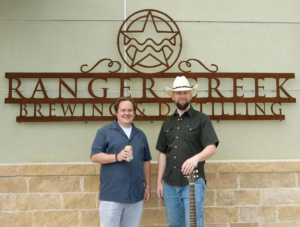 blend of quality handcrafted beer and boot tapping music with a distinctively Texas style.
Ranger Creek is a combined brewery/distillery proudly located in San Antonio, TX since 2010.  Their beer and whiskey are made by hand, one batch at a time with lots of love and attention.  Being a "brewstillery" affords Ranger Creek the opportunity to highlight a relationship between beer and whiskey like few can, often aging beer in their own bourbon barrels or distilling beer into whiskey.

We make original, authentic Texas beer and whiskey, and we're excited to partner with an artist making original, authentic Texas music.  Drew has passion and talent, and his music is a great representation of the Texas attitude that we try to convey through our handmade products.
- Mark McDavid (http://DrinkRangerCreek.com)
Drew Moreland is 100% Texan, born and raised in San Antonio.  His outlaw style and fierce independent manner of doing things the "Texas way" make him the perfect match for Ranger Creek.  Drew's talent for spinning a good story is apparent in his new single "5 O'clock Somewhere Kinda Love" - a flirty drinking song that will take you back to your wild glory days - or make you feel right at home if you're still living in them.  You can find his debut EP, Bench Seat Revival, on iTunes, Spotify, or DrewMoreland.com.
This month, on Saturday, August 26th, Drew and Ranger Creek will be hosting their first joint event. TEXAS COUNTRY MUSIC FESTIVAL will be a night filled with great music at Ranger Creek's brewstillery (4834 Whirlwind Dr).  The lineup will feature Drew Moreland and his band The Neon Hustle, plus some of San Antonio's finest up-and-coming Texas Country artists: Smoke Wagon, Band of Bandits, Jesse Stratton Band, and Marcy Grace.  Advanced tickets are available online for just $5 (https://events.r20.constantcontact.com/register/eventReg?oeidk=a07eecsfau494571d7c), or at the door for $10.  Doors open at 5:00pm and music begins at 6:30pm.
Come join the fun for a taste of San Antonio's finest bands, brews, and bourbon!